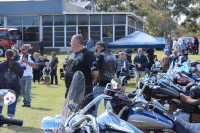 The Annual Longriders Charity Bike Show & Family Fun Day is on again this year on Saturday 9 September 2017 in the grounds of the Tomago Bowls & Sporting Club situated at 657 Tomago Road, Tomago, just like last year. Tomago Road is a bitumen road running between Pacific Highway, Hexham and Nelson Bay Road, Williamtown. This year we are planning to consolidate our Show. It won't be massively bigger but it will be better, a much more organised quality show for everyone to enjoy. Now I am not saying last years show wasn't organised it was, just that this year everyone, especially kids amusements are enlarged with a Petting Zoo + Megamania + pony rides + face painting etc., etc. Big boys amusements are enlarged with an electronic bucking bull to ride and motorcycle related trade stalls and bike show and for the ladies a variety of trade stalls, handbags etc. drinks, eats and lots more. Yes more for everyone to enjoy combined with the fellowship, quality bikes and fun. There will be plenty more happening just keep watching this, AND SEE OUR FACEBOOK SHOW PAGE FOR UPDATES. We are also listed in upcoming Bike Shows and Events in Live to Ride, OzBike and Just Bikes. See you there. HEY WHY DON'T YOU CHECK OUT OUR NEW BIKE SHOW POSTER WHICH IS ATTACHED TO THIS PAGE. JUST DOUBLE CLICK ON THE HEADING AND THE LINK TO THE POSTER WILL APPEAR. EASY!! (amended 9July17)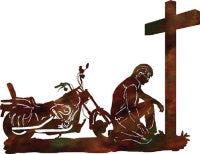 Biker Church is held at the Longriders Christian Motorcycle Club, 351 Pacific Highway, Heatherbrae on the First Sunday of every month. Everyone is WELCOME!!!
(You DON'T have to be a Biker)
The service starts at 10am and the atmosphere is relaxed and informal. If you have never been to church, drifted away from God, you're all alone and need someone to share with, or just feel this may be for you, please come along. We are not in competition with other Churches, we merely provide a place where ALL PEOPLE ARE WELCOME, can find friendship, have a coffee or tea and something to eat and hopefully find God. Remember ALL WELCOME!!!